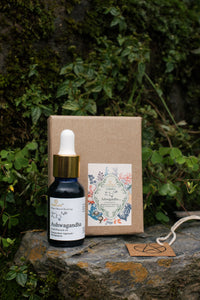 Ashwagandha- Classically used for Rejuvenation and Longevity, this herb has antioxidant, anti-inflammatory, anti-stress and adaptogenic properties, the ability to strength the immune system, lower cholesterol, boost testosterone, reduce blood sugar levels, improve brain function, including memory and its well-known ability to enhance stamina.
Aromatic profile : musky, Spicy, warm, and sweet.
Suggested usage
Burn 7- 10 drops in a diffuser and inhale to promote a restful night's sleep.
Add 10 to 15 drops in your bathtub for therapeutic effect.
Mix 15-20 drops to per 1⁄2 ounce (1 tablespoon epsom salts ).
For Body & Hair Massages oil / Shampoo & Conditioner/ or skincare cream and moisturiser ( *use only unscented base / product)
20/ 30 drops dilute in 2 tablespoons base* Oil of your choice.
2-4 drops in drinking warm water
Net Weight- 15 ml