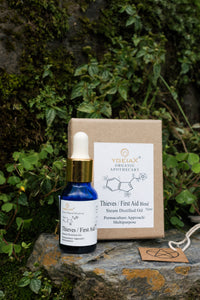 INGREDIENTS: Clove, Lemon , Cinnamon, Rosemary, Eucalyptus, and champhor.
Thrive is targeted to over all health protection a first-aid multipurpose blend and is based on the centuries old Thieves Oil / Thieves Vinegar blends which were famously used by thieves to protect themselves while robbing victims who had died from the black plague.
Suggested usage:
2 to 3 drops directly to your temples and neck, eases tension and eliminates muscle spasms.
Rub a few drops onto wrists or the nape of the neck for an energising and uplifting fragrance.
Add a few drops during your conditioner application or include it in a DIY hair mask to nourish your hair and scalp and create healthy-looking hair.
Add few drop to moisturizer / cream and apply to skin for revitalizing benefits.
Apply a drop or two topically for its cleansing properties.
Add to your favourite base oil and use for a body massage.
Refresh musty carpets by adding 5 drops of Thieves EO to a cup of baking soda; combine well and let sit overnight until the oil is absorbed. Sprinkle over carpets and vacuum thoroughly.
Add a few drops to your dish soap or dishwasher powder to eliminate odors and boost cleaning.
10 to 15 drops in a diffuser to creat an pleasant and balanced atmosphere. Add 10 to 15 drops in your bathtub for therapeutic effects.
Mix 15 to 20 drops to 1 tablespoon Epsom salts.
Facial steam, use a drop or two.
Room Air freshener, add 10 to 15 droops into a spray bottle.
Diffuse 10 to 15 drops for a fresh, clean aroma around the house.
Customize your Thieves experience by adding a few drops of grapefruit or Orange with sandalwood, or rose / jasmine with frankincense essential oil.