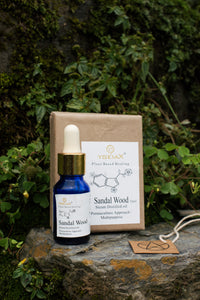 Sandalwood has anti-inflammatory, antiviral, antimicrobial, and antifungal properties and comes as a soothing agent for people suffering from itchiness triggered by skin infections such as Eczema and Psoriasis. It also modulates the immune reaction and mediates efficient wound healing with minimum scarring . Sandalwood has shown anticancer effect in various studies, due to the presence of active compound Alpha Santalol which kills skin and breast cancer cells. This oil also works as an aphrodisiac.
Aromatic profile : Sweet soft, warm, creamy, and milky precious-wood and floral scent.
Suggested usage
Mix a few drops your cooking base oil to smoke your barbecue to add a warm, smoked note.
A drop to flavour your mocktails or cocktails by swilling the drop in empty class first for the extra benefits. Use a drop or two for a flavorful twist in your baked goods, and desserts.
2 to 3 drops directly to your temples and neck, eases tension and eliminates muscle spasms.
Rub a few drops onto wrists or the nape of the neck for an energising and uplifting fragrance.
Add a few drops during your conditioner application or include it in a DIY hair mask to nourish your hair and scalp and create healthy-looking hair.
Add few drop to moisturizer / cream and apply to skin for revitalizing benefits.
3-4 drops in a diffuser to creat a pleasant and balanced atmosphere. Add 4-5 drops in your bathtub for therapeutic effects.
Facial steam, use a drop or two.
Room Air freshener add 3-4 drops into a spray bottle