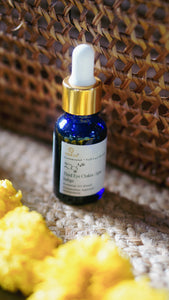 Third Eye Chakra oil is a mix of following oils:- Frankincense, Lavender, Sage, Brahmi, Jyotishmati, Myrrh, & Holy Basil.
Name in Sanskrit: Ajna meaning "beyond wisdom"
Signs of balance: Strong intuition and inner wisdom, the release of the ego
Signs of imbalance: Someone becomes cynical and overly attached to external circumstances. When out of balance, a person may also store tension in the head, causing headaches or vision problems.
Location: The space between the eyebrows
Body Parts : includes eyes, central nervous system & mid-brain.
Gland : Pituitary Gland.
Colour : Indigo, Yellow, Violet.
Element : All (earth, air, fire, water, and ether)
Ruling senses : Governs all senses, including extra sensory perception. Seed sound : OM
Mantra : Om Namo Narayana
Affirmation : I see . I am connected to my higher self & dwell in the wisdom
within me. I trust my intuition. I feel connected to my spiritual truth. I let me inner wisdom guide me. My thoughts are calm and peaceful.
Precious & Semi precious Stones :- Lapis Lazuli , Amethyst, Chariot, Blue Sapphire, Sodalite, Azurite, Moss Agate & Sugilite.
Bodyworks & technique :- Take any 3/4 Eos with sweet almond to massage technique known as "brow stripping" that includes the muscles in the jaw area, temples and nasal sinuses.